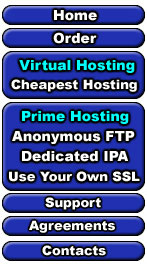 No reason to wait.
Order now!
No reason to wait.
Order now!
No reason to wait.
Order now!
No reason to wait.
Order now!
Horror Stories

I am so pleased with your service. I am extremely happy that I am not forced to purchase my domain from you, and I am kept as the owner. It took me almost four months to get my domain from the previous hosting company, #############. I made the mistake in starting with a hosting company that provided cheap hosting in exchange for having me register my domain with them. BIG mistake on my part. It was okay at first, but after 30 days or so, their service began falling apart. I have been trying to move my hosting for almost four months. I have also changed my domain registrar where I am the registrant.
******************
I hate hosting company ad######! That was my second mistake with a hosting company. This was why I had so many questions for you before purchasing. I should have guessed something was wrong when ad###### service was down for a short while, and then they changed names. I was suppose to get the first year for free, and then start paying after that, and there was no obligation. Before I even got a quarter of the way through the year, the service was permanently down, and suddenly I had no site, no email, no ftp. Nothing! I couldn't even get hosting somewhere else, because I had to change my DNS name that was registered with my domain. Since I could not confirm the change with my email, because it was gone along with the site, I could not have traffic for my site directed to a new hosting company. Because of my two bad experiences, I had my doubts about WHW, but fortunately I knew another person who used your service, and he had no negative comments about WHW.
******************
I tried saving a few extra dollars with another hosting company, and I ended up paying 50 times more because of all my problems with their control panel, and ignorant support. It was useless to me that they responded some time within the same day when they had no idea how their own systems worked or did not even know how to provide help for their service. I am extremely happy with your Support. Thanks guys!
******************
I had read that a hosting company needs to be around for more than 3.5 years to reduce risk, but I did not believe it. I purchased with another hosting company that was one dollar less than your price (before you reduced your prices; your prices are the best now) and they had no setup fee. I did not have many problems with their service, and they were already around for a little more than 3 years. I had paid for a whole year, and about three months later, my site disappeared. I tried emailing them, but got no response. There site was still up and running, but their phone number was disconnected. It turned out that they had gone out of business about thirty days or so, and I was on one of their sever that was finally shutdown by some other company that ran their server.
******************
This is so much better than trying to operate my own web server. I got a dedicated server in an effort to reduce my costs as low as possible. All I did was spend all my time with operational, system, and support issues. Dedicated server provider don't give a dam about you after you've rented their server. Once you ask too many questions, you just don't get any more answers back from them. With your service, all I do is sell, and design, and everything has worked out great so far. Keep up the good work.
******************
I got to tell you that there are so many hosting companies with better web sites than yours. Why don't guys improve your web pages? Although, I can see that a good looking site has nothing to do with reliable and good service. That was my experience. I originally had one provider, and then moved to another, and then to another. I always went for the sites that looked great. Then I found out that those site designs are sold pre-built for hosting companies, and they have nothing to do with the hosting companies. I moved over to your service, and I don't have a complaint yet, and I am finally free of head-aches. I am successfully reselling your service, and you should take a look at my site, ##################. It looks better than yours. ;-) Maybe we can ........
******************
The company that hosted my site previously advertised a fast OC192 connection through V######. However, my site always crawled. Their web site was so impressive, and said so much about the fast connections. I couldn't figure out why they were so slow. Getting help from a couple of friends, we finally figured out that they worded their website carefully to refer to V######'s OC192, and make it sound like it was theirs. While actually they were going over a T1 connected to the OC192. It probably was not even a full T1. I was pissed! I had complained prior to that so many times, and got all kinds of stupid answers that wasted weeks of my time. I promptly transferred to your service, and cancelled my service with H#########. My sites seems to be four times as fast, maybe more, and I have now made five times the sales because I have more time to do sales.
******************
I feel like a sucker having paid all that extra money those months to V####. What you provided sounded great from the beginning, but I just couldn't believe that you could provide such great service for this low price. So, I originally went with V####. When I heard about your risk free promotion, I tried your service, and everything was fine. I had to spend an hour or so learning your control panel, but everything was great. The transference of the site went smooth. I could swear it seems like my sites are faster. I am now saving $456 a year PER SITE (sorry, had to scream that, because I am so excited about it) because I switched over to you. Thank you for a professional service at a fantastic price!
******************
******************
******************
******************
Web Hosting Wholesale is about:
Reliability
Low, Low, Low Cost
Long Term Track Record
Excellent Support and Sales
24/7 knowledgeable Support
Customer Satisfaction
Fast Servers
Fast Throughput
Beyond adequate space