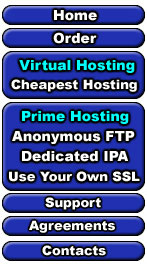 Fast, Fast, Fast!
This is what our customers say about our Support response time. We hear this over, and over again. We love it! Please keep sending the praises to our team. It truly motivates us, and it is really appreciated.
Support Information:
support@webhostingwholesale.com
If you need to communicate with Support, and you do not have email or Internet access, then please either use the Support Form at http://www.webhostingwholesale.com/Level2/support_request_form.shtml, or call the private numbers that have been given to you for immediate support.
If you do not have any of the private numbers given to you, please call Sales immediately.
Support is 24 hours a day, and every day.
Note that support listens to Sales voice messages on regular intervals after Sales office hours. Please make sure to leave your message slowly and clearly, especially the phone numbers.
For other contact information, please click here.
Help with using the Control Panels:
Control Panel Help is built in to all web hosting packages, and are accessed by a simple click of a button. You as the wholesaler can refer to the help document that is relevant to your server control panel or administrator control panel, and your customer can refer to the help document that is relevant to them, and the customers end user has their own control panel for which they have been provided relevant help documentation. Simply login with your username for either the Server Admin, or Site Admin, or as a User, and then click on the Help link on the Left Menu to bring up the whole Help document. The Help on the top right corner of each page brings up help information for the specific page you are on.

For samples images of the control panels, please click here.
The phrase of "Web Hosting Wholesale" was first introduced by us to the Internet,
and the globabl economy, and it is a copyrighted phrase, and a trademark of
WebHostingWholesale.com, and operator of WebHostingWholesale.com.
© Copyright 2003 WebHostingWholesale.com; All Rights Reserved.
Information in this document is subject to change without notice.
Other products and companies referred to herein are trademarks or registered
trademarks of their respective companies or mark holders.
Not responsible for typographical errors.